FEATURED PRODUCT
Citrus – Aussie Style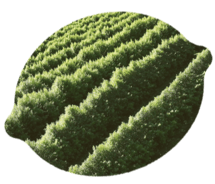 In the world of fragrance, citrus scents such as orange, mandarin, lemon, and lime are perfect for invoking summer and sunshine. These zesty fragrances yield a refreshing and uplifting consumer experience throughout the year.
While the scent of citrus can be found in many essential oils, Australian natives offer unique notes, with long-lasting functional benefits.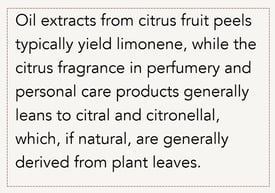 Fade Away Freshness
Despite their popularity, citrus-derived essential oils are generally not fixative in function. Common citrus peel oils, like lime or grapefruit, contain 60 - 95% limonene, with a quick evaporation rate. While limonene gives citrus peel oil a bright and sweet citrus aroma, the application of citrus peel oils is limited to the top notes in a perfume composition.
Aussie "Citrus" Staying Power
The advantage of Australian lemon-scented essential oils is their longevity. The high citral components in these oils tend to have a much longer-lasting scent than natural citrus oils, especially in skincare and perfumery.
Longer Lasting – A Consumer Priority
With the cost-of-living escalating world-wide, brands are rapidly flexing to meet consumer demand for "Long-lasting", now the 4th most popular beauty and personal care claim, up a whopping 17% in the last 12 months (Mintel, August 2023). The biggest jump of any product claim!
Mintel, August 2023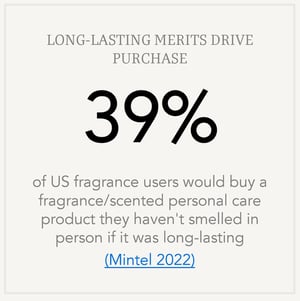 In addition, consumers are willing to pay more for longer-lasting products, interpreting this as better quality, according to Deloitte research (2022).

Significant opportunities exist for brands to prove their value and quality, with 48% of adults believing that expensive fragrances last longer than cheap fragrances (Mintel, 2019).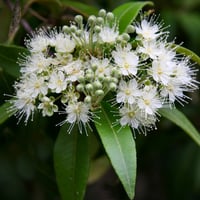 Lemon Myrtle
Let's start with Lemon Myrtle (Backhousia citriodora), the highest natural source of citral, and often given the descriptor, "More Lemon than Lemon".
The scent of Lemon Myrtle is fresh, zesty, and uplifting from its high citral content, with a hint of citronella, and a complex and multifaceted undertone that energizes you. It blends well with other citrus top notes like orange, jasmine, lime as well as heart notes like Eucalyptus, Pine, and Rosemary.
Lemon Myrtle is known to have strong antifungal and antibacterial properties, making it also popular in natural cleaning products. The oil is is purported to offer insect repellent properties and has been used in perfumes and aromatherapy for decades. The high citral content of this oil also makes it a natural antioxidant, aiding in the fight against free radicals and protecting against skin damage. The main constituent of Lemon Myrtle is citral ≥85.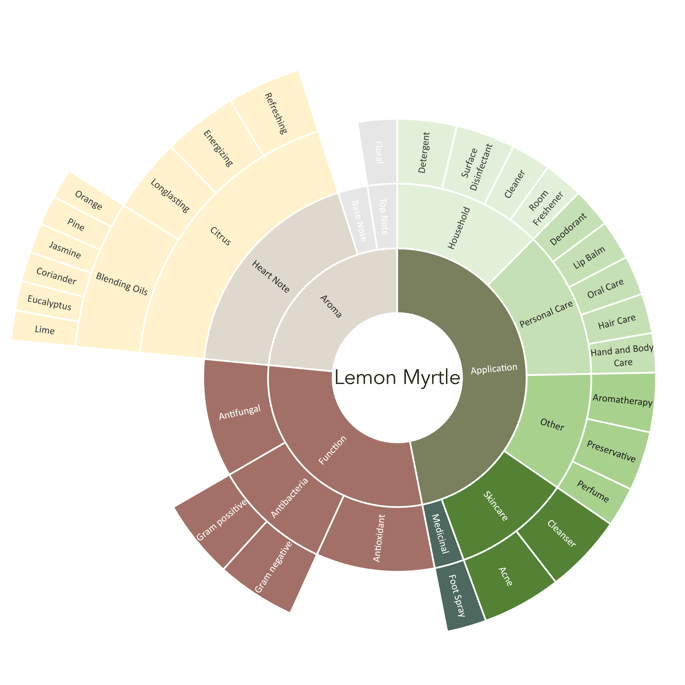 Lemon Myrtle offers excellent antimicrobial properties. Oranges dipped for 120 sec in a Lemon Myrtle solution showed less fungal wastage as compared to the control (Mohammad et al., 2022). A study by Lim et al. published in 2003 demonstrated that 1% Lemon Myrtle Oil inhibited fungi, yeast, and bacterial growth similar to Phenoxyethanol (PE). Research is presently being undertaken to evaluate Lemon Myrtle as a natural preservative with antimicrobial functionality exceeding PE.
LEARN MORE IN OUR BLOG: Lemon Myrtle: An Alternative to Paraben-Based Preservatives?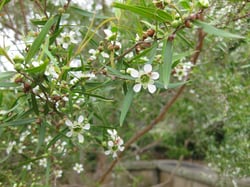 Lemon Scented Tea Tree
Lemon Scented Tea Tree (Leptospermum petersonii) is another native Australian plant, distinct from the ever-popular Australian Tea Tree (Melaleuca alternifolia).
A fresh citrusy essential oil, Lemon Scented Tea Tree opens with sweet fresh citrus notes, and slowly transitions into fatty and herbal undertones. This aromatic citrus profile cues cleanliness and, at the same time, refreshes your senses. This gentle scent can mask the sharp camphor-like smell of Tea Tree Oil, making it more universally appreciated for use in skincare products.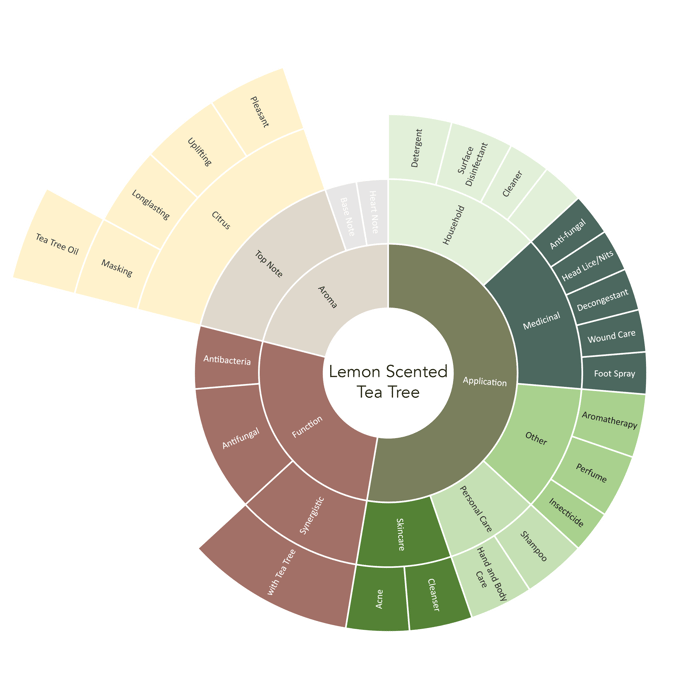 The oil has strong anti-microbial properties, is particularly useful for treating fungal infections, and has demonstrated efficacy in clinical trials as an insect repellent. Via air vaporization, Lemon Scented Tea Tree Oil can inhibit fungal colonies within 30 mins (Hood et al., 2010). The effectiveness of this Essential Oil has been demonstrated in clinical trials comparable with major antifungal drugs such as micafungin, caspofungin, and voriconazole (Hood et al., 2010).
Click the button to request a sample and formulating tips with Lemon Scented Tea Tree Oil.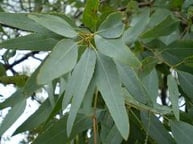 Lemon Iron Bark Eucalyptus
The last, but certainly not the least, lemon-scented Essential Oil to review is Lemon Iron Bark (Eucalyptus staigeriana).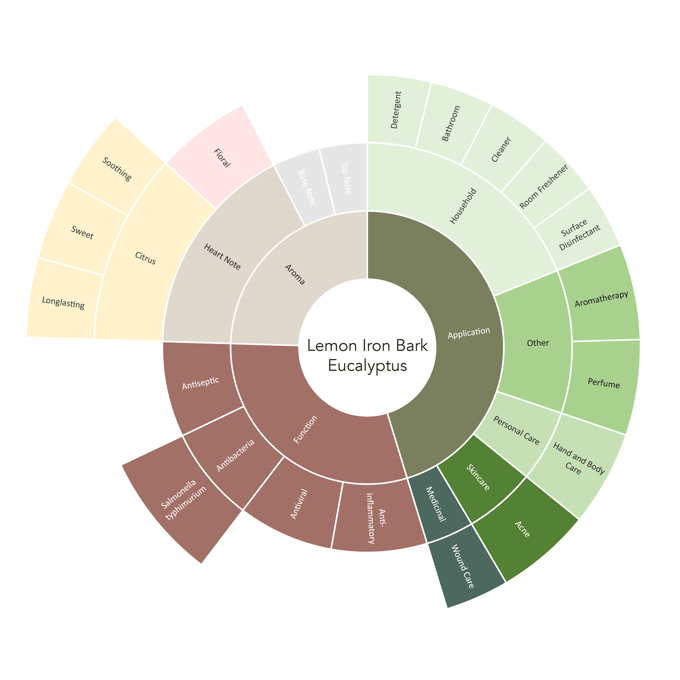 This oil has a sweeter open note and less pungent lemon scent compared to Lemon Myrtle and Lemon Scented Tea Tree, with a soft floral finish. It also has powerful antibacterial, antifungal, and antiviral properties, making it useful in skin care products and natural cleaning.
Lemon Iron Bark has a very unique, natural blend of citrals, linalool, and eucalyptol. The natural complexity of this oil is what gives is such unique citrus fixative properties.
Lemon Myrtle, Lemon Scented Tea Tree, and Lemon Scented Iron Bark offer excellent applications in personal care, home care, and perfumery.
These unique "citrus" botanicals are part of Down Under's broad range of exciting Australian natives. To experience the full range of fragrance options available, DOWNLOAD OUR PERFUMERY BROCHURE.