THE EVIDENCE
Our Sustainability Initiatives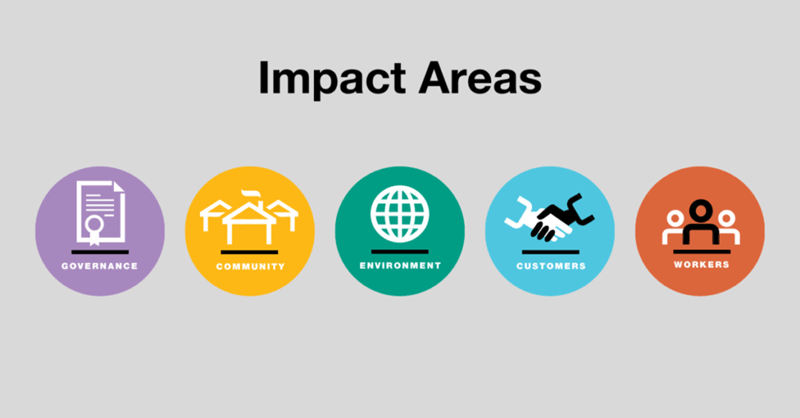 Source: B Corp, July 2022, Unpacking the 'B Impact Score' — What it is and Why it Matters
GOVERNANCE
The first step of becoming a B Corp after the self-assessed B Impact Score is called the Mission Lock. We had to amend our company's governing Constitution to legally ensure that social or environmental performance – not just financial – is a part of our company decision-making process.
Next came an interrogation of our policies, systems, and procedures. As an ISO9001:2015 certified company, Down Under Enterprises has developed and operates under a consistent quality management system across our farm, warehouse, and distribution operations worldwide.
| | |
| --- | --- |
| B Corp Announcement Breakfast Champagne | 2023 Team Bubble Soccer |
EMPLOYEES
B Corp assesses our worker's benefits, welfare, and development. Taken into account were factors such as every person on our global team is covered by health insurance, each employee has a personal development plan, and our average employee's skills training hours have increased by 172% since we adopted this KPI in 2020. A highlight of every quarter is organizing activities to encourage the health and wellness of our employees. Last quarter we engaged in a team bubble soccer event -- that was a load of fun!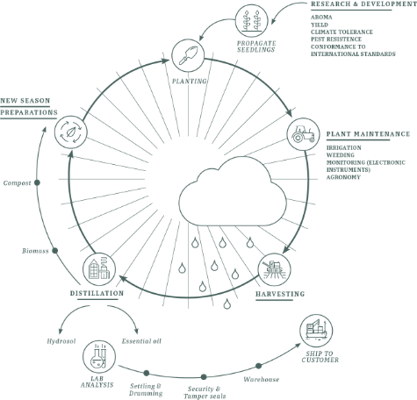 ENVIRONMENT
Stewardship of the environment in which our company operates is vitally important to our entire team. We have been monitoring and tracking our Sustainability KPIs of Down Under offices and our farms since 2020. To help reduce our carbon footprint, we use 100% renewable energy for our office and the farm. Our Green House Gas Emissions have reduced by 39% since 2020 by switching to 100% renewable energy plans and converting our vehicles and farm equipment to electric where possible.
Runoff from agricultural land (including soil nutrients and sediment) is a significant threat to waterways that can impact on humans, livestock, and marine life.
In the design and development of our own farms, we wanted to make sure to protect our local environment. We built two dams at Buhlambar in a closed-loop system to counter these challenges. When irrigation is required, irrigation flows from the paddocks to drains, then to a common tail waste dam where the water is settled and naturally filtered. It is then returned to the main dam for uptake by the irrigation system again.
Then, we planted an extensive native plant border to provide permanent local habitat for the amazing birdlife at the farm. A recent study by Macquarie University (Sydney, AU) found that establishing plantings around farm dams has a significant impact on water quality and biodiversity.
CUSTOMERS
We constantly review standard operating procedures (SOPs), identify potential issues and risks, and implement improvements (CAPA and Change Management) to our systems and operations.
When our customers conduct quality audits on our operations - we typically pass with flying colors. Our average supplier relationship tenure is over 60 months, and over 75% of our customers are very likely to repurchase our product again.
But when we do have customer concerns or even complaints, we look at them in a positive way - a means for improvement. We manage all customer complaints extensively. A staff member is dedicated to this activity, investigating the root cause of the issue, the resolution, and continuous customer communications. These actions result in very high complaint resolution satisfaction rates.
We also measure customer satisfaction. We have 100% satisfaction rate from our customers responding to last year's survey.
COMMUNITY
As a female-founded and managed business with an emphasis on diversity, we have an equal male: female split at 50%, and 85% of our employees are non-Australian-born.
This year we commenced the development of our first Aboriginal and Torres Straits Reconciliation Action Plan (RAP). Click here to Read More about our Reconciliation Action Plan, and keep following our newsletters to stay up to date on our progress.
We undergo formal annual audits by external third-party organizations, including ISO, Australian Trusted Trader, Ecovadis, Cosmos Natural, and Australian Certified Organic.
LEARN MORE ABOUT OUR CERTIFICATIONS
We rolled out our Supplier Code of Conduct in 2022 to communicate with our suppliers on how we do business and set expectations for similar ethical boundaries for our suppliers/stakeholders. Reference to our Reconciliation Action Plan (RAP) was recently updated in the Code of Conduct.
We use this Supplier Code of Conduct to bond with like-minded suppliers and clients and to gauge acceptance, questions, and cooperation across our stakeholder network.