TRACEABILITY
Our Buddha Wood is harvested in cooler weather.

This month we caught up with Di and Andy, the harvesters, and distillers of our Buddha Wood Oil.
1. How long have you been involved with Buddha Wood?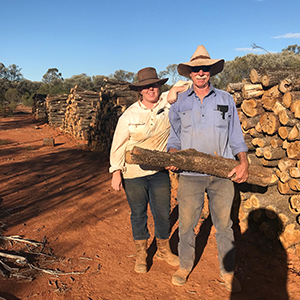 We have been involved in harvesting Buddha Wood trees and distilling the essential oil around 12 years from early experimental work to now.

We source our Buddha Wood trees from a local land holder/farmer in NSW (pictured) which adds income to their business and assists them in managing this particular species on their property.
2.Where is your farm located?
This property is located in the central outback of New South Wales. The harvesting of the Buddha Wood logs has provided an income for property owners. This has been especially well received during the recent severe drought conditions eliminating the normal farm income from grazing and cropping.
3.What are some of the traditional therapeutic applications of Buddha Wood, as used by the Australian Aboriginal people?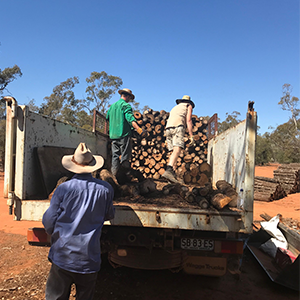 Traditionally the Aboriginal native Australians burned these types of timbers to release the oils for ceremonial purposes. and they also used the ground wood in topical rubs and poultices, which they created for treatment of various skin conditions.
4.What kind of products include Buddha Wood in their formulations today?
Buddha Wood Oil has been used in modern times in perfumes, skin care products, essential oil blends for aromatherapy, as a standalone oil used in diffusers, mixed with oils that work well with it. Buddha Wood's aroma is purported to have calming properties.
5. What sustainability practices do you have in place on your land?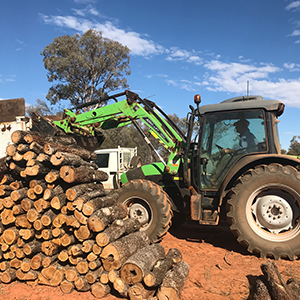 This tree is considered to be an invasive woody species by the state government. By removing the larger trees for use in essential oil production, there is minimal waste after harvesting. The timber is a prolific grower and by removing these larger trees, it allows the next generation to grow.

During the harvest, the smaller branches and sticks and leaves that are left behind act as great barriers for the native grasses that come up underneath as they are protected from browsing. Subsequently, these new saplings will become bigger waiting for their chance to grow with the further harvesting that will occur in later years.

As Buddha Wood is a relatively new oil being introduced to the marketplace, the rate of harvest is quite minimal. Much greater harvesting capacity is possible without any issues for a sustainable and continued supply.