Add a little Mānuka to your Tea Tree
The antimicrobial potential of Tea Tree Oil is well known – with excellent consumer recognition too! The striking bactericidal (gram +ve) properties exhibited by Manuka Oil are now becoming much better known too. [see more information HERE]
Putting Tea Tree and Manuka together may give your formulation a significant efficacy boost. While Manuka Oil is the winner at killing gram-positive bacteria, Tea Tree Oil is awesome for gram-negative bacteria, fungi, yeasts, and other nasties. Check out this in vitro potency data.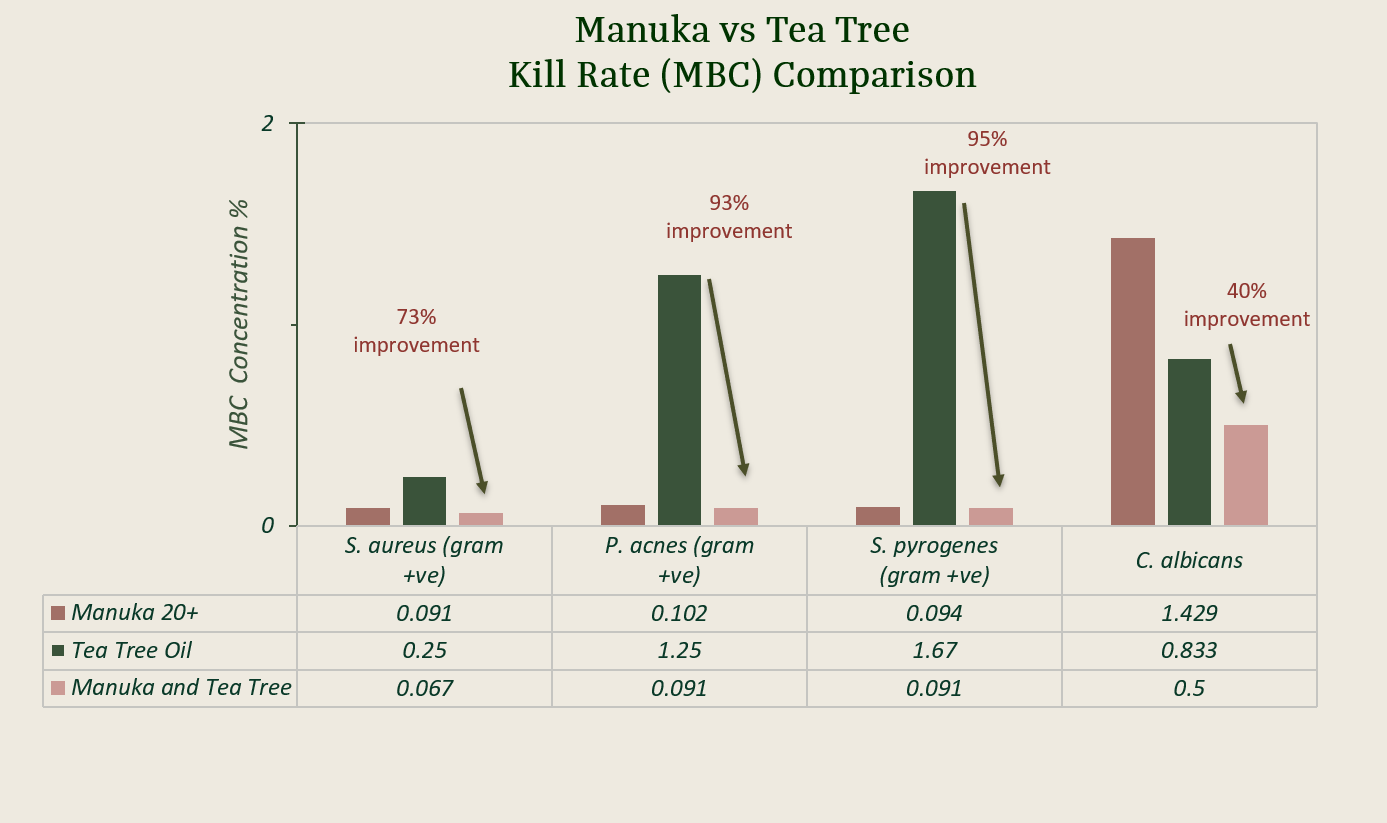 Adding Manuka significantly decreases the concentration of Tea Tree necessary to be effective against these pathogens.
95% Improvement - Streptococcus pyogenes is a species of Gram-positive, bacterium that causes numerous infections in humans including pharyngitis and tonsillitis.​
93% Improvement​ - Propionibacterium acnes is the Gram-positive bacterium linked to the skin condition of acne.​
73% Improvement​ - Staphylococcus aureus is a Gram-positive bacterium frequently found in the upper respiratory tract and on the skin and is often the cause of infection.​
40% Improvement​ - Candida albicans is the most prevalent cause of fungal infections in people including shaving rash and nappy rash.
Manuka & Tea Tree – Published Results
Another in-vitro study, conducted by Christoph et al. from the University of Hamburg, Germany, and published in J Planta Med (2001), determined the bactericidal potential of Tea Tree Oil is significantly boosted against four different bacteria (Staphylococcus aureus, Pseudomonas aeruginosa, Escherichia coli, Moraxella catarrhalis) when combined with the efficacy of Manuka Oil's beta-triketones.
Complete kill of Staphylococcus aureus and Moraxella catarrhalis

Manuka's β-triketones increased the antimicrobial activity of Tea Tree Oil

Complete antibacterial extermination was achieved within 240 min

Significantly better performance as

compared to Myrtol (a well established treatment for acute and chronic bronchitis)