Trend 7- Antibacterial
With COVID-19 placing a strong emphasis on hand hygiene, the product claim 'antibacterial' has dominated new product launches for the Soap, Bath, and Shower (SBS) category. Notably, there has been a rise in antibacterial claims across most SBS sub-categories.
In particular, "Antibacterial" is by far the dominant claim in liquid soap, driving significant innovation in this segment. The claim is set to remain active even after COVID-19.
MINTEL data indicates that post COVID-19 interest in antibacterial SBS formulae and sanitizers will continue to hold strong consumer appeal
MINTEL recommends adding value to hygiene focused SBS innovation with additional functionality to maintain a longer-term interest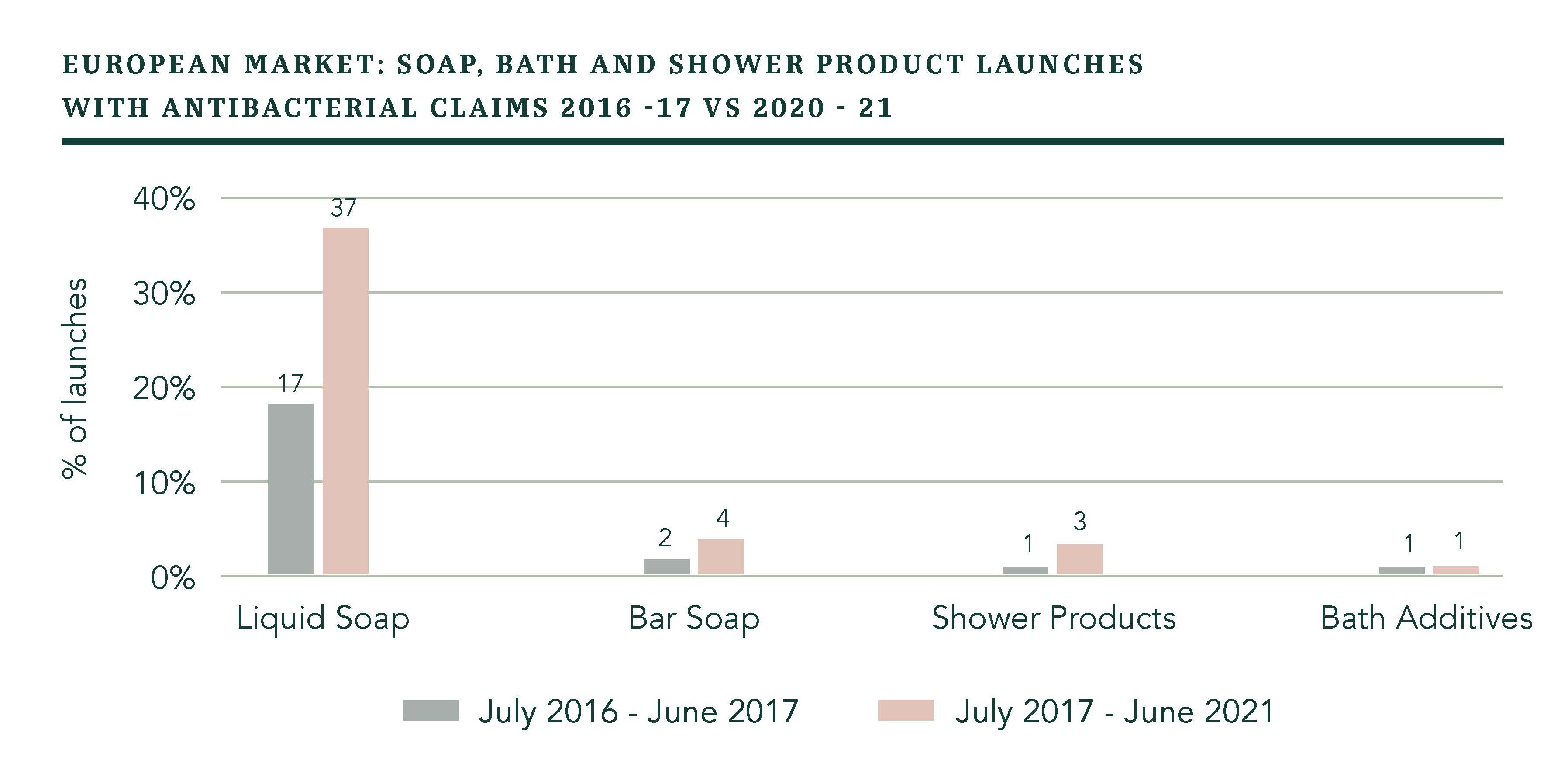 It is expected that hand sanitizers will continue to offer opportunity for product manufacturers post COVID-19. In China, 75% of hand sanitizer users surveyed indicated they will continue using sanitizer as frequently as during the outbreak.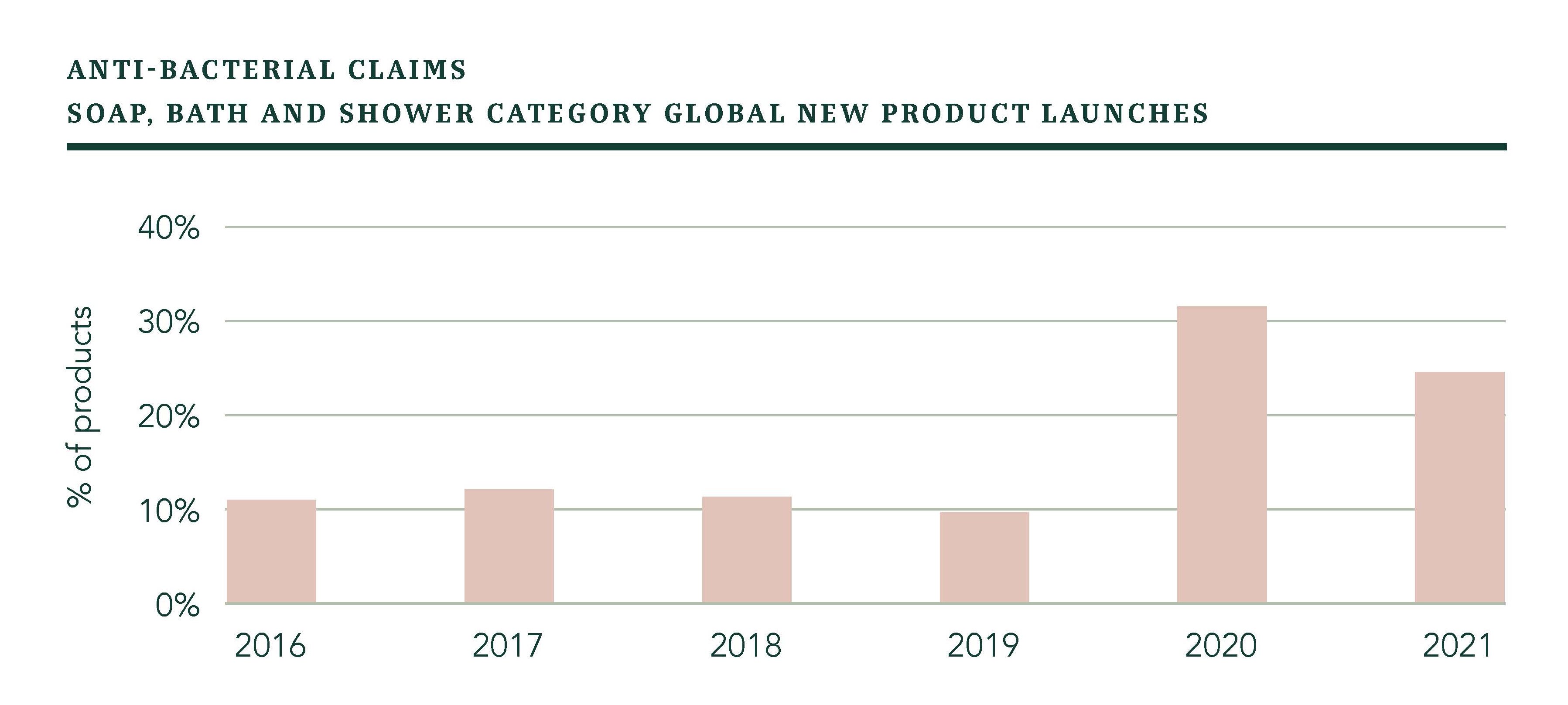 A gap exists for manufacturers of premium antibacterial soap/sanitizers to maintain engagement with your targeted consumer base. MINTEL suggests this can be achieved by promoting other protective capabilities of antibacterial/sanitizer launches such as hydrating or pollution protection benefits.
Added value opportunities exist for hygiene/antibacterial SBS segment:
Frequent hand cleansing during the COVID-19 pandemic has increased demand for skin-friendly product benefits such as "hydrating "claims



Hydrating, fast-acting and versatile

(i.e. for skin and surfaces) sanitizers appeal to consumers


Add value with fragrance and design-led innovations


A gap exists for specialized sanitizers for older people (likely to be more concerned about COVID-19) and for men (who tend to be less likely to carry hand wash/sanitizing products around with them).


Add value with eco-minded sanitizers and innovations that tap into wellness trends


Highlight non-drying merits of antibacterial/sanitizer launches, and 'premiumize' functional sanitizer with design-led and fragrance-led concepts.
| | | |
| --- | --- | --- |
| 75% | 44% | 67% |
| of hand sanitizer users in China indicate they will carry on using sanitizer as frequently as during the outbreak. | of US of Soap, Bath and Shower product users would pay more for hand soap with added skincare benefits. | of Soap, Bath and Shower buyers in Brazil think hydration is a most important attribute |
Source: MINTEL: A year of innovation in soap, bath & shower, 2021
Native Australian Essential Oils
Nearly the entire range of Essential Oils from Down Under Enterprises can add fragrance, antibacterial and antioxidant potential to an Antibacterial formulation depending on concentrations used. These naturally active Australian botanicals offer unique therapeutic properties which can help formulators innovate across multi-functional formulations.
Learn why Australia's native flora is so highly effective -- and WEIRD!
Tea Tree Oil
Australian Tea Tree Oil has consistently been among the Top 2 Essential Oils used in new product launches globally over the last 5 years according to MINTEL data. Globally, consumers consistently turn to Australian Tea Tree Oil for its recognized antibacterial, antifungal, antiviral, and/or anti-inflammatory properties. Recent COVID-related product innovation with Australian Tea Tree Oil has focused on antimicrobial Hand Care and Maskne applications.
Formulating with Tea Tree as the active ingredient instead of ethanol in hand sanitizers can support a 'non-drying' claim by removing alcohol from the formula and still achieving efficacy.
Tea Tree has demonstrated sanitizing efficacy equal to or greater than alcohol in a randomized controlled trial conducted in accordance with FDA Guidelines for Hand Sanitizers.[i] In another study comparing 2.0% Tea Tree Oil (TTO) with 0.5% triclosan and 2.0% chlorhexidine all the three products demonstrated significant antimicrobial action. The study participants comprised of healthcare workers noted the pleasant aroma and non-dryness of their skin when using the soap containing Tee Tree Oil.[ii]
Learn more about Australian Tea Tree Oil HERE.
Lemon Scented Tea Tree Oil
Do not be fooled by the name, this aromatic Aussie native is not even of the same botanical genus as the well-recognized Tea Tree Oil (Melaleuca anternifolia). The essential oil derived from Lemon Scented Tea Tree Oil (Leptospermum petersonii) is rich in uplifting citrals. This botanical has been dubbed the "happy oil" at Down Under for its fresh and invigorating aroma. It opens with sweet fresh citrus notes and slowly transitions into fatty and more herbal undertones. This aromatic citrus profile cues cleanliness and at the same time refreshes your senses.
Lemon Scented Tea Tree Oil works wonderfully well in a variety of products given its antimicrobial properties and delightful scent. It can be used to mask the strong aroma of Tea Tree Oil, achieving a synergistic antimicrobial boost as well.
With its refreshing and on-trend citrus aroma, Lemon Scented Tea Tree can be used in combination with Tea Tree Oil to disguise the aroma of Tea Tree. Researchers at Macquarie University in Australia found Lemon Scented Tea Tree Oil to have to have an MIC and MBC of less than or equal to 0.12 % against aureus. Furthermore, the addition of Lemon-Scented Tea Tree Oil in a 1:5 ratio to Tea Tree Oil increased the microbiological activity of Tea Tree Oil alone by 4-fold (MIC 1% dropped to 0.25% with the combination). Lemon Scented Tea Tree Oil has been more widely researched for its anti-fungal potential. At a concentration of 0.2 mg/ml, Lemon Scented Tea Tree was more than 90% effective against the dermatophytes Microsporum canis (KCTC 6591), Trichophyton mentagrophytes (KCTC 6077), and Epidermophyton floccosum (KCCM 11667).[iii]
Learn more about Lemon Scented Tea Tree Oil.
Manuka Oil
While many people are familiar with Manuka Honey, the new Manuka Oil is demonstrating its own unique therapeutic properties. Manuka Oil is an essential oil, steam distilled from the leaves of the scrub tree Leptospermum scoparium, native to both New Zealand and Australia. It is the same plant from which bees make Manuka Honey.
Manuka Oil is a highly effective natural ingredient when formulating for Personal Care anti-bacterial products, including body washes and deodorants. Manuka Oil has demonstrated particularly strong antibacterial activity against gram-positive bacteria including Staphylococcus aureus and Staphylococcus hominis in microbiological testing for Minimum Inhibitory Concentrations (MIC) and Minimum Bactericidal Concentrations (MBC)[iv]. Manuka Oil's natural affinity for targeting gram positive Staph bacteria was put to the test in a comparison with Manuka Honey and Tea Tree Oil. Unsurprisingly, the MIC result for Manuka Oil was significantly lower at 0.0156% compared to Manuka Honey (UMF 20+) with a MIC of 0.626% and Tea Tree Oil with a MIC of 1% against aureus.[iv]
A review of the MINTEL Global New Products Database (GNPD) suggests significant market opportunities exist for products containing Manuka Oil. Read more in our White Paper: Applications of Manuka Oil in Personal Care.
While Manuka Oil is significantly more potent against gram-positive bacteria, Tea Tree Oil is stronger against gram-negative bacteria, fungi, and viruses. Together they make up our Dynamic Duo!
Learn more about the synergistic "Dynamic Duo" antimicrobial effects of Manuka Oil and Tea Tree Oil.
Australian Eucalyptus Oil
Our Eucalyptus Oil from Western Australia (Eucalyptus kochii) has achieved Carbon Neutral status, hitting the trend for the evolution of eco-friendly oral care products.
Perennially a favorite, Eucalyptus Oil has a fresh and pleasant aroma and as such is a popular ingredient in personal care and home care products.
The synergistic effects of essentials oils is an area of considerable scientific interest. When used in combination, or to enhance the performance of synthetic ingredients[v], Eucalyptus oil and its main constituent, Eucalyptol (1,8-cineole) has also been studied for its antimicrobial efficacy in combination with other antimicrobials, including chlorhexidine digluconate (CGH). CGH is a disinfectant and antiseptic that is commonly used to sterilize surgical instruments. Synergistic activity was favorably demonstrated between CHG and both Eucalyptus Oil and 1,8-cineole against suspensions of Staphylococcus aureus, methicillin-resistant S. aureus (MRSA), Escherichia coli and Candida albicans, and biofilm cultures of MRSA and Pseudomonas aeruginosa.[v]
Lemon Myrtle Oil (conventional and certified organic)
Lemon Myrtle (Backhousia citriodora) has been described as more lemon than lemon!

Lemon Myrtle is an ideal hero ingredient for hand sanitizers and handwash with its fresh citrus aroma fragrance and strong antimicrobial properties. Lemon myrtle oil was shown to possess significant antimicrobial activity against a broad spectrum of organisms – bacteria (gram positive and negative), fungi, and yeasts – including Staphylococcus aureus, Escherichia coli, Pseudomonas aeruginosa, Candida albicans, methicillin-resistant S. aureus (MRSA), Aspergillus niger, Klebsiella pneumoniae and Propionibacterium acnes comparable to its major component citral. Lemon Myrtle Oil's safety and efficacy has been established at 1% concentration.[vi]

References


[i] Youn BH, Kim YS, Yoo S, Hur MH. Antimicrobial and hand hygiene effects of Tea Tree Essential Oil disinfectant: A randomised control trial. Int J Clin Pract. 2021 Aug;75(8):e14206. doi: 10.1111/ijcp.14206. Epub 2021 Jun 6. PMID: 33950544.

[ii] Gnatta JR, de Brito Poveda V, Padoveze MC, Graziano KU, Turrini RNT, da Silva MJP. Melaleuca alternifolia essential oil soap: a potential alternative for hand hygiene. Eur J Clin Microbiol Infect Dis. 2021 Jul;40(7):1517-1520. doi: 10.1007/s10096-021-04190-w. Epub 2021 Feb 26. PMID: 33635424.

[iii] Park MJ, Gwak KS, Yang I, Choi WS, Jo HJ, Chang JW, Jeung EB, Choi IG. Antifungal activities of the essential oils in Syzygium aromaticum (L.) Merr. Et Perry and Leptospermum petersonii Bailey and their constituents against various dermatophytes. J Microbiol. 2007 Oct;45(5):460-5. PMID: 17978807.

[iv] https://www.downunderenterprises.com/manuka_oil_white_paper_personal_care_applications

[v] Hendry ER, Worthington T, Conway BR, Lambert PA. Antimicrobial efficacy of eucalyptus oil and 1,8-cineole alone and in combination with chlorhexidine digluconate against microorganisms grown in planktonic and biofilm cultures. J Antimicrob Chemother. 2009 Dec;64(6):1219-25. doi: 10.1093/jac/dkp362. Epub 2009 Oct 16. PMID: 19837714.

[iii] Hayes AJ, Markovic B. Toxicity of Australian essential oil Backhousia citriodora (Lemon myrtle). Part 1. Antimicrobial activity and in vitro cytotoxicity. Food Chem Toxicol. 2002 Apr;40(4):535-43. doi: 10.1016/s0278-6915(01)00103-x. PMID: 11893412.