The era of mandatory supply chain sustainability due diligence is here.
Regulatory initiatives are underway for mandatory supply chain declarations. Europe and Australia are implementing humanitarian and sustainability reporting aligned with annual financial reporting standards. These moves will likely lead other countries to follow suit, especially for large-scale multinationals. As early as July 2024, companies in some jurisdictions with revenues in excess of USD500M will be obligated to declare their supply chain sustainability compliance.
European Union
Large companies in the European Union will soon be obliged to actively search for and diminish human rights violations and environmental harm within their supply chains. This new law applies to EU businesses and extends its reach to foreign companies, including those headquartered in North America, which are operating in the EU market.

On June 1, 2023, the European Union parliament voted by a majority in favor of tightening the EU supply chain law, Corporate Sustainability Due Diligence Directive (CSDDD). The new EU law obligates companies to carefully manage the social and environmental impacts throughout their supply chain, including their business operations, and it goes far beyond existing legislation at a national level.

Companies operating in the EU with 250 or more employees and an annual turnover of more than €40 million (USD$44.5 million) worldwide will be subject to the law, with transition periods of up to five years, based on EU revenue thresholds. Approximately 13,000 EU companies, including well-known names like L'Oréal, Unilever, and Beiersdorf, and a further 4,000 companies based outside of Europe are expected to be affected.

Small and medium-sized enterprises are not directly affected by the law (at this time) but, as suppliers of larger affected companies, will likely feel the impact as well.

The European Parliament is expected to vote on its formal position later in 2023; then legislative negotiations can begin, a final version that would likely start to be rolled out in phases from around 2030.
Australia
On 27 June 2023, the Australian Treasury released a public consultation paper outlining the proposed implementation of mandatory climate-related disclosures in Australia. The current proposal would require climate-related disclosures for all entities required to prepare annual reports under the Corporations Act beginning as early as 1 July 2024. It is also proposed that these disclosures be formally audited.

Companies must ensure legal compliance with these new regulations, not only for themselves and their subsidiaries but also for their suppliers along their entire value chain, i.e., all activities related to the production of goods or the provision of services. Effectively, this means responsibility for upstream and downstream business relationships.
Gear up for the transparent era
In March 2022, at the port of Baltimore, Maryland, customs officers confiscated four shipments of palm oil originating from Malaysia. These shipments, valued at around $2.5 million, were seized. Not for alleged narcotics, nor counterfeit products. Instead, the seizure of this cargo was due to the alleged utilization of forced labor. USA officials have the option to withhold or destroy the goods.
The speed by which these regulations are coming into effect are catching many manufacturers, as well as their suppliers, off guard. Some may not be ready for this intense level of supply chain scrutiny.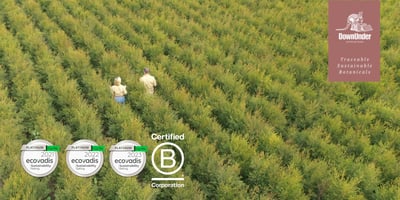 The importance of fully tracing your supply chain from end-to-end, including a review of suppliers' employee practices in your procurement processes, cannot be understated.
Down Under Enterprises products are fully traceable from our farm to your facility. As a testament to our verified Sustainability credentials, we have been awarded EcoVadis Platinum three years consecutively and we are a Certified B Corp. Get in touch with your Down Under sales representative to discuss your specific requirements; we can help you eliminate your ESG supply chain reporting risks.