Journey to our EcoVadis Platinum Status
Our unswerving focus is to incorporate sustainability - environmental, social, and ethical – into every aspect of our operation. In 2020, Down Under brought in EcoVadis as a third party to conduct an independent assessment of our Sustainability program.

That year, we scored a Bronze Medal on our Corporate Social Responsibility assessment – one point off a Silver Medal. Not bad for our first year.

One years later, we surpassed Silver, having now attained a Platinum Sustainability rating for the last three years. This achievement places us in the top 1 percent of global sustainable businesses in the world, as audited by EcoVadis. That is over 115,000 companies!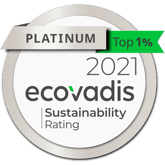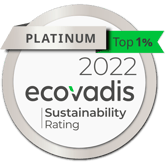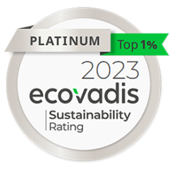 EcoVadis is one of the most trusted third-party assessors in environmental, social, ethical, and supply chain performance. These areas together comprise what is considered the full scope of corporate social responsibility – more broadly refrenced as Sustainability. Click the links to learn more about Our SUSTAINABILITY initiatives and request a copy of our latest EcoVadis Score Card.
Improvement: Saving Water
We built two dams at our Buhlambar Farm. Recycling water through our 2-dam system helps conserve our natural resources and maintain the biodiversity of our wildlife and waterways. When irrigation activities are required, irrigation flows from the paddocks to drains, then to a common tail waste dam where the water is settled and naturally filtered. It is then returned to the main dam for uptake by the irrigation system again.
Improvement: More Recycle and Upcycle
After extensive investigation and long-term storage trials, we changed from using plastic HDPE to aluminum for our essential oils. In the Essential Oil Industry, plastic HDPE drums are commonly used to transport the product. However, only a small amount is recycled and invariably "downcycled". Approximately 85% of aluminum is recycled. Best of all, the recycling process is less energy intensive than new aluminum and can be recycled into another high-quality aluminum flask.
The biomass from our farm's oil distilling process is then composted with other local organic waste materials to create a wonderful and rich fertilizer product. We then spread this over our new growth to prime the land for the new year's growth. And it's all 100% organic! In addition, the wastewater from the condensation of steam after passing through the biomass. This distillate, in turn, becomes our aromatic hydrosols! Hydrosols have an excellent sustainability profile, contain many water-soluble plant components, and carry some of the fragrance and therapeutic properties of the plant.
Improvement: 100% Renewable Energy
Only 100% Renewable Electricity is employed at our farm, warehouse, and office. We also use 100% renewable energy to power some farm equipment. These activities directly reduce our carbon emissions and carbon footprint as a business - which we monitor as an annual KPI. This helps us steer a sustainable standard for our industry, aligns us with our customers' carbon emissions targets, and keeps Australian Agribusiness in Essential Oils competitive in a global market.
Next Steps: Constantly Optimize Our Process
With this independent certification of our sustainability efforts, our customers with their own sustainability targets can feel confident that our processes are transparent and validated.
Beyond EcoVadis, we are ISO9001, ISO14001, ISO8001, USDA NOP, EcoCert, COSMOS, Halal, and ATTIA certified. We can also provide you with the necessary paperwork for your Leaping Bunny and Cruelty-Free certifications. Regarding Australian ingredients, we have you covered - quality documentation and certification requirements. Learn more about our CERTIFICATIONS.
And we're not stopping there. We are working through the process to become a Certified B Corporation too. Having completed our B Impact Assessment and Verification stages earlier this year, we are just awaiting a final review and confirmation of our BCorp status. We are very excited - stay tuned.
If your company requires these supplier requirements, carbon emission targets – or other considerations, such as a focus on supporting female-owned suppliers, we should be talking! CONTACT US