Following our presentation on Sustainable Sandalwood at the NY Sustainable Cosmetic Summit in 2018, one of the other presenters shared with us that the waste of HDPE packaging was literally twice as much as aluminum. This made us reflect on our packaging choice and set in motion our next challenge – implement more sustainable product packaging for our oils.
Shortly afterwards, we established a Packaging Team and started our own research. Here are some of the more interesting packaging facts we found:
Plastic takes more than 400 years to degrade

Most plastic ever produced – EVER – still exists in some form. Only 12% has been incinerated

The vast majority (79%) is accumulating in landfills, with the rest likely ending up in our oceans

Only 9% of plastic is recycled in the US, 30% in Europe, and 25% in China

HDPE can only be 'downcycled' to lesser grade plastics
Aluminum is melted down, retaining high purity levels with each 'reincarnation'
Almost 75% of all the aluminum ever produced in the US is still in use today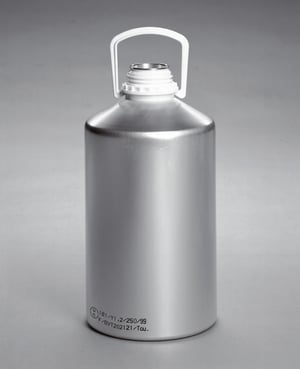 We've Gone Aluminum
After a 6-month long packaging project, Down Under successfully converted all essential oil packaging (1kg, 5kg, 10kg, 20kg) to aluminum. By converting from HDPE to Aluminium packaging for our smaller quantities, we are reducing our packaging carbon footprint by more than 38%.
It also helped our initiative that ATTIA, the Australian Tea Tree Industry Association, conducted an extended shelf life study of aluminum flasks and determined that these were suitable for the intermediate storage of pure Australian Tea Tree Oil when the aluminum packaging consisted of:
Uncoated (bare) aluminum construction

PTFE wadding in the cap (vs the standard PP or foil wadding)

No use of the PP stopper (it melts in presence of TTO)
Want to know more about our aluminium packaging? CLICK HERE
Want to know more about our packaging for Tea Tree Oil? CLICK HERE
UPDATE 15 APRIL 2020: The sustainability people at PROVENANCE (www.provenance.org) recently conducted a webinar on packaging conundrum companies face when navigating what type of product packaging to use and how to account for all environmental impacts of these packaging choices. Here's a link to their WEBINAR.