As the world increasingly returns to a sense of normalcy, interpersonal activities are leading a renewed focus on personal hygiene. Body Odor is always on consumer minds. The primary bacterium causing body odor is called Staphylococcus hominis.
Manuka Oil, well known for its efficacy against gram-positive bacteria at very low concentrations, has a strong affinity for targeting S. hominis.
Manuka Oil has demonstrated particularly strong antibacterial activity against gram-positive bacteria including Staphylococcus aureus, Staphylococcus pyogenes, and Staphylococcus hominis in Minimum Bactericidal Concentration (MBC) tests. Manuka Oil offers potency greater than 12 times the bactericidal capability of Tea Tree Oil against Propionibacterium acnes (0.102% vs 1.25%, respectively).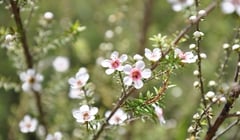 Manuka Oil is a relatively new botanical ingredient for the Personal Care Market. It is an essential oil, steam distilled from the leaves of the scrub tree Leptospermum scoparium, native to both New Zealand and Australia.
A review of the MINTEL Global New Products Database (GNPD) suggests significant market opportunities exist for products containing Manuka Oil within the Deodorant and Soap & Bath categories.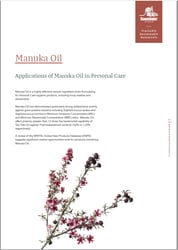 The MBC tests commissioned by Down Under Enterprises demonstrate Manuka's affinity for Staphylococcus hominis, the bacterium that causes body odor.
Scientists have related Manuka Oil's efficacy to its β-Triketone components. These unique compounds occur naturally and are found in the highest abundance in Manuka Oil.

MIC and MBC test results can be found in our White Paper.