Trend 1 - Skin Glow
For many years, skincare product manufacturers have developed products for their customers featuring discrete product features. Recently, however, a combination of features has elicited a new term in skincare - Skin Glow.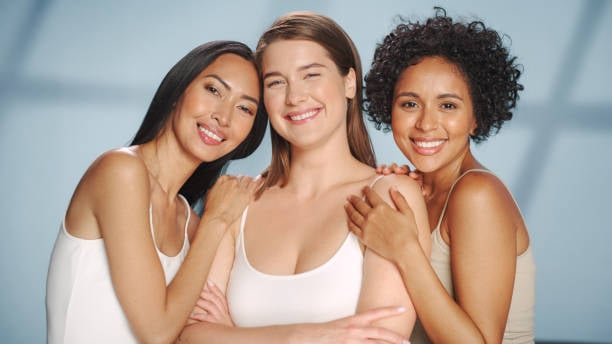 Skin Glow encapsulates a combination of traditional beauty factors which result in a healthy-looking complexion, including "anti-aging", "hydration", and "brightening". While "brightening" includes management of hyperpigmentation and uneven skin tone, this does not necessarily imply skin lightening. As demonstrated in Figure 1, individual combinations of these features yield the benefits of "firming", "anti-oxidants", and "radiance". But encapsulating all of these combinations is the new term, "Skin Glow".
Interrogating the MINTEL Global New Product Database (GNPD) for skincare claims that help to achieve the quality of Skin Glow, include:
radiance
small pores
even skin tone and complexion
dewy and moisturized
not dull or flaky
not hyperpigmented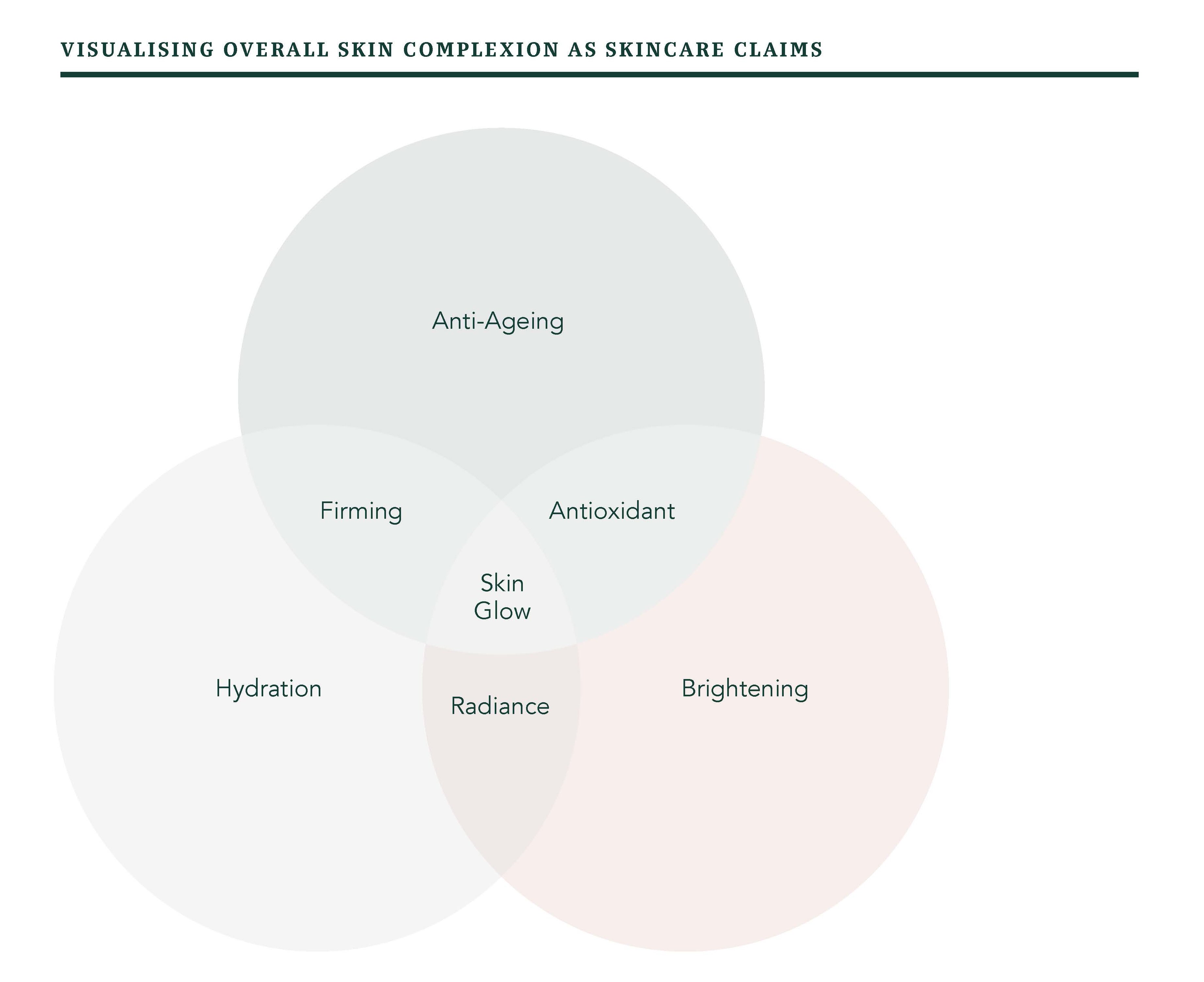 MINTEL: The Future of Skin Glow: 2021
We analyzed the year-over-year prevalence of these product claims from 2016 to 2021 (Figure 2), identifying the strong - ~100% increase - in "glow" claims during this period, far exceeding claim growth of the other more traditional beauty-enhancing claims.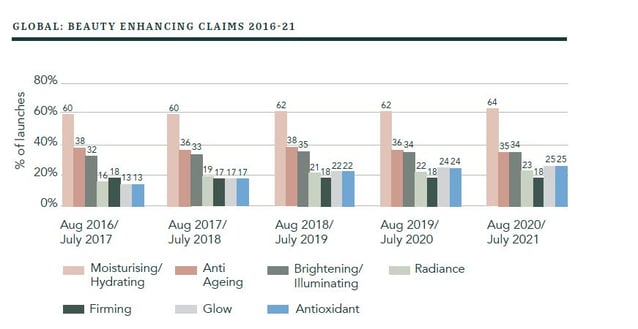 MINTEL: The Future of Skin Glow: 2021

"Antioxidant" beauty-enhancing claims are also trending upwards at the same pace as "Glow". The common "moisturizing/hydrating" claims maintain a sizable yet diminishing lead.
Clearly, consumer demand for beauty enhancement products is not fading. However, the focus of consumers' beauty regimens – and the terms which appeal to these consumers – is evolving to a higher, combinatory claim of "Skin Glow".
Identifying potential actives, especially "natural actives", and creating consumer "buzz" is a recognized and continual challenge for Formulators and Marketers, respectively, of skincare products. Australian botanicals offer both functional properties and a touch of the exotic.
Australian Botanicals to boost Skin Glow
Many Essential Oils demonstrate a degree of antioxidant activity. There is a significant body of scientific research identifying stand-out botanicals. Further R&D would be required to determine the efficacy of a specific botanical in a given formulation.
While traditionally it has been thought that Essential Oils require a transporter such as a carrier oil or a special format (e.g. nanoemulsion) to exert a therapeutic effect, new research.[i] suggests that some oils such as Sandalwood (Indian) Album Oil can independently penetrate the skin sufficiently to exert their antioxidant effect.
Below are the stand-out Australian Essential Oils and botanicals that meet the Skin Glow trend:
Antioxidants
Kakadu Plum Powder
Kakadu Plum Powder is produced from the freeze-dried fruit puree of a native Australian tree (Terminalia ferdinandiana) endemic to the tropical far North, between Darwin and Broome. A well-recognised indigenous "bush food" in Australia, Kakadu Plum offers the highest known natural source of Vitamin C, regarded for its anti-oxidant properties. A more highly prized component of Kakadu Plum is Ellagic Acid – and much more stable in formulations. Both Ellagic Acid and Vitamin C are well documented in scientific literature as effective for treating hyperpigmentation disorders and as antioxidants and free radical scavengers, in general. When applied to skincare they can help increase collagen production, improve skin tone evenness, and protect the skin from free radical damage such as UV exposure.[ii] [iii] [iv]
To learn more about Kakadu Plum powder, read our January 2022 Newsletter.
Sandalwood Album Oil
Traditionally known as Indian Sandalwood (Santalum album), nearly all legal supply of Sandalwood Album Oil now originates from sustainable plantations in Australia. According to a study published in 2021 in Cosmetics Journal. Sandalwood Album Oil is a potent antioxidant that works on the keratinocytes to protect the skin from reactive oxygen species (ROS). ROS are free radicals, generated by exposure to environmental stressors such as blue light and pollution, that cause damage to cell structure, breaking down collagen, reducing elasticity and causing an un-even skin tone. The study identified Sandalwood Album Oil to be a more potent topical antioxidant than Vitamin E.
Visit our website to learn more about Australian Sandalwood Album Oil's other properties and to access technical documentation.
Download our White Paper, "Therapeutic Properties of Sandalwood Oil", to learn about the clinical results of Sandalwood Oil's other functions.
Brightening
Blue Cypress Oil
Blue Cypress Oil is obtained from the wood and bark of the native Australian tree, Callitris intratropica. Through steam distillation, an amazingly rich blue essential oil is obtained which is naturally high in many sesquiterpenes including Guaiazulene and Chamazulene. Both of these compounds are well known for their anti-inflammatory properties. Chamazulene is the same compound which imparts German Blue Chamomile with its antioxidant properties. Blue Cypress Oil is a particularly rich source of the sesquiterpene, Guaiol, which may be used in skincare formulations to even out skin tone.
Visit our website to learn more about Australian Blue Cypress Oil's other properties and to access technical documentation.
White Cypress Wood Oil
This oil, produced from the wood of the native Australian White Cypress (Callitris columellaris) tree, is rich in Guaiol, a known anti-inflammatory agent that assists with inflammatory skin conditions such as rosacea and skin rash as well as to improve consistency of skin tone.
Visit our website to learn more about Australian White Cypress Oil's other properties and to access technical documentation.
Hydration
Sandalwood Seed Oil
Sandalwood Seed Oil is a "bio-active" carrier oil obtained from the seed of the Australian Sandalwood (Santalum spicatum) tree. These trees produce a seed crop after ~5 years from seedling stage and continue to yield approximately 5-10kg per tree of raw seed annually. The kernel of these seeds are comprised of the unique, acetylenic triple bond Ximenynic Acid (35±2%), as well as moisturizing Oleic Acid (52±2%). Studies demonstrate Ximenynic Acid to increase dermal microcirculation[v] [vi] which may reduce signs of ageing such as enlarged pores and skin laxity. Oleic Acid provides high emollient activity ideal for dermal hydration. Sandalwood Seed Oil, oxidatively stable for over 4 years, is being used in an increasingly greater number of natural facial and skincare products.
Australian Wood Oils Collection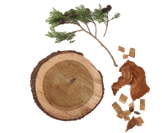 Our native Australian Wood Oils Collection provides personal care formulators a range of unique "functional fragrances". Including our Sandalwoods – Australian and Album, Blue Cypress, White Cypress, and Buddha Wood, the Wood Oils offer rich base notes with unique functional properties. Watch the video of our Australian Wood Oils to learn more.
FORMULATING SOMETHING NEW?
Looking for different functions or applications? Why not try our Applications functionality on our website. Here is the LINK. To explore your options, simply follow these three steps:
Choose your ingredient criteria - Explore the different categories at left of screen. Tick the criteria important to you for your new formulation.
Evaluate your short list of ingredients - We will give you a recommended list of our ingredients fitting your specific needs. Clicking on any of these product 'tiles' will present an overview of this ingredient.
Obtain your custom report - When you are happy with your short list of ingredients and selection criteria, select "Access Report" to have a customized report sent to your company email. We also give you access to a 1:1 consultation with one of our Specialists to answer any other questions you may have.
[i] Francois-Newton, V.; Brown, A.; Andres, P.; Mandary, M.B.; Weyers, C.; Latouche-Veerapen, M.; Hettiarachchi, D. Antioxidant and Anti-Aging Potential of Indian Sandalwood Oil against Environmental Stressors In Vitro and Ex Vivo. Cosmetics 2021, 8, 53. https://doi.org/10.3390/cosmetics8020053
[ii] Hollinger JC, Angra K, Halder RM. Are Natural Ingredients Effective in the Management of Hyperpigmentation? A Systematic Review. J Clin Aesthet Dermatol. 2018 Feb;11(2):28-37. Epub 2018 Feb 1. PMID: 29552273; PMCID: PMC5843359.
[iii] Bae JY, Choi JS, Kang SW, Lee YJ, Park J, Kang YH. Dietary compound ellagic acid alleviates skin wrinkle and inflammation induced by UV-B irradiation. Exp Dermatol. 2010 Aug;19(8):e182-90. doi: 10.1111/j.1600-0625.2009.01044.x. PMID: 20113347.
[iv] Ertam I, Mutlu B, Unal I, Alper S, Kivçak B, Ozer O. Efficiency of ellagic acid and arbutin in melasma: a randomized, prospective, open-label study. J Dermatol. 2008 Sep;35(9):570-4. doi: 10.1111/j.1346-8138.2008.00522.x. PMID: 18837701.
[v] Hettiarachchi, D., Liu, Y., Fox, J., & Sunderland, B. (2010). Western Australian Sandalwood Seed Oil: new opportunities. Lipid Technology, 22(2), 27-29.
[vi][vi] Bombardelli, Ezio. "Combinations of vasoactive agents and their use in the treatment of sexual dysfunctions." U.S. Patent No. 8,092,844. 10 Jan. 201.