The essential oil of the native Australian plant Lemon Myrtle (Backhousia citriodora) possesses antioxidant, antibacterial and antibiofilm activities.
A study by Lim AC, Tang SGH, Zin NM, et al. published in the August 2022 issue of Molecules, identified the chemical composition and bioactive characteristics of Lemon Myrtle (Backhousia Citriodora) Essential Oil, which the authors concluded compared favorably to the common antibiotics, gentamicin and streptomycin.
In the DPPH antioxidant testing, Lemon Myrtle Oil showed strong antioxidant activity at IC50 of 42.57 μg/mL and EC50 of 20.03 μg/mL, respectively. The result showed that, as compared with standard antibiotic gentamicin and streptomycin, Lemon Myrtle Essential Oil performed strongly and broadly in inhibiting and eradicating the four common nosocomial pathogens, especially the gram-positive bacteria (S. aureus, S. epidermidis, and E.Coli).
Bacteria

Zone of Inhibition (mm)

Lemon Myrtle Oil

Gentamicin

Staphylococcus aureus

31.13 ± 0.29 a

22.30 ± 0.60 b

Staphylococcus epidermidis

50.17 ± 0.29 a

24.30 ± 0.60 b

Escherichia coli

20.33 ± 0.58 a

20.00 ± 0.00 a

Klebsiella pneumoniae

12.67 ± 0.58 b

18.00 ± 0.00 a
Table 1: Antibacterial activity of BCEO and standard antibiotic (gentamicin) expressed by the diameter of the inhibition zone (mm). Lim Ac, Tang SGH, Zin NM, et al.
At each tested level, 0.5x, 1x and 2x base MIC concentration, Lemon Myrtle Oil demonstrated significant inhibitory efficacy, comparable with streptomycin, against each bacteria strain.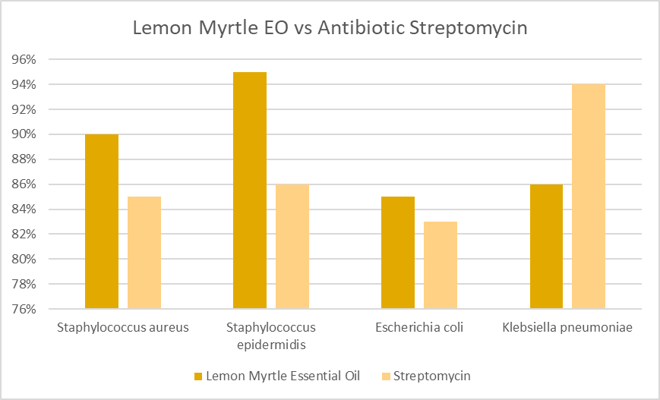 Table 2: At 1x MIC, effects of Lemon Myrtle Essential Oil and streptomycin on the inhibition of biofilm formation of four common bacteria, Lim et al. l, Molecules 2022,27(15),4895. Down Under to discuss your Lemon Myrtle Oil requirements.
Other studies reveal that Lemon Myrtle Oil also offers antioxidant and anti-inflammatory functionality. Further, Lemon Myrtle Oil has been determined to inhibit nitric oxide (NO2) production and inhibition of TNF-α, both of which act upon local inflammation responses.
An earlier study published in 2003 showed significant antimicrobial properties of Lemon Myrtle Oil. The in-vitro study tested Lemon Myrtle Oil against 13 bacteria, including MRSA, and 8 fungi in comparison with other essential oils. Lemon Myrtle Essential Oil demonstrated stronger antimicrobial efficacy than citral alone and Tea Tree Oil.
To learn more about our native Australian Lemon Myrtle Oil, click here.