Australia is the home of the entire Eucalyptus genus – all Eucalypts around the world have emanated from Australia in the last century. Over 500 species of this eponymous genus have been identified, but less than a dozen are generally considered suitable for essential oil production.
One Eucalyptus species particularly suited to essential oil production is Eucalyptus kochii.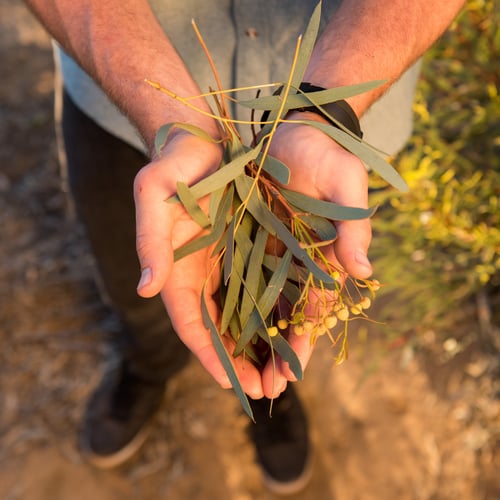 E. kochii offers the highest known concentration of 1,8-Cineole – Eucalyptol – of any Eucalyptus species, over 92%, far exceeding the natural Eucalyptol concentration of ~65% for Eucalyptus Globulus.
The origins of Eucalyptus Oil production in Australia began in 1860 in an area near Melbourne in Australia's South. The oil was soon exported to Europe, Asia, and North America, gaining a broad international reputation for its therapeutic properties. Seeds of the oil-rich species were distributed globally, but particularly to China, Portugal, and South America.
By the end of WWII, the cost of production in Australia exceeded what was possible in these other countries. Furthermore, post-war Australia focused on wheat and broadacre crop production, relegating eucalyptus oil production to remote 'bush stills'. As a result, the industry nearly dried up completely.
Until recently...
Watch our VIDEO to learn about the rest of the story.