Adulteration Impacts Efficacy of TTO
Adulteration is a fact of life. Unfortunately some 'bad actors' are more focused on making a fast buck regardless of the safety ramifications. This also applies to Tea Tree Oil; market research confirms that between 20% and 50% of everything sold as "Tea Tree Oil" is adulterated.
While the safety hazards of adulterated Tea Tree Oil are truly concerning, the link with Efficacy was much less clear. Until now...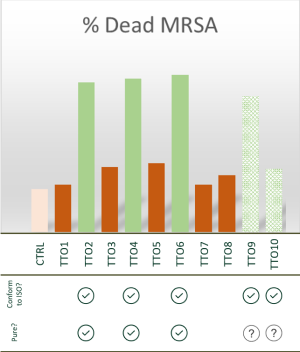 Researchers at University of Padova (Italy) recently published the article, "In Vitro Antimicrobial Activities of Commercially Available Tea Tree (Melaleuca alternifolia) Essential Oils", in the Journal of Current Microbiology, identifying a difference in antimicrobial efficacy based on the conformance to the ISO standard for Tea Tree Oil. The results are compelling, as shown in the graphic at left.
"Only five out of ten TTO batches reported significant antimicrobial activity."
The researchers obtained 10 retail bottles of Tea Tree Oil. All 10 samples underwent GC-MS and assessed the results against the ISO4730 standard for pure Tea Tree Oil. Only 5 of the 10 samples conformed to the ISO standard - samples 2, 4, 6, 9, and 10, as illustrated above.
The authors then tested the efficacy of Tea Tree Oil against the following organisms:
Candida glabrata
Herpes simplex virus type 1 (HSV-1)
Methicillin-resistant Staphylococcus aureus (MRSA)
Pseudomonas aeruginosa
Strikingly, the efficacy of the Tea Tree Oil samples tested directly correlated with these purity results for each of the organisms tested. Each of the Tea Tree Oil samples conforming to the ISO4730 standard achieved "significant antimicrobial activity.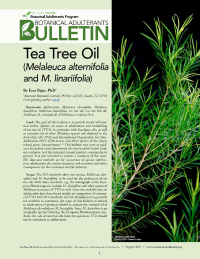 To learn more about Adulteration and Tea Tree Oil, the American Botanical Council has published a booklet on this as part of their Botanical Adulterants Program. A copy of this booklet can be downloaded by clicking on the thumbnail image (also HERE).
Talk with us about your requirements for pure Australian Tea Tree Oil and how we can provide you the assurance of full TRACEABILITY - from the farm to the shelf.