Your Down Under Team
A company is only as good as its individual team members. And if you get the right mix of team members, they can achieve things greater than the sum of their parts. At Down Under, we've got that sort of team.
5 nationalities
50:50 male/female split
9 languages
One team!
We are a great mix of individuals, with varied backgrounds, ethnicities, and skills. Together, when coupled with our systems and resources, our team is your natural go-to for native Australian essential oils and botanicals.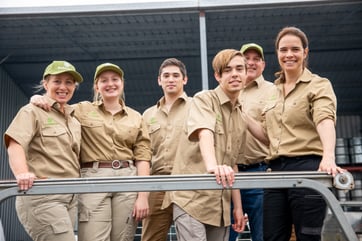 Every year, we bring our global team together for some time at our farm, to plant trees, learn about our plants, our native animals on the property, and how to make our company work even better. It's amazing what happens when people get a bit of dirt under their nails, plant a tree for the local koala population, or even take a tractor for a spin around the farm. The whole team - from the farm personnel, warehouse staff, back office, and the sales team - working together to brainstorm how to do things better for you.
Quality: In addition to the 5+ externally audited annual certifications, we challenge our team to improve our procedures and systems. We regularly conduct brainstorming sessions, including formal Kaizen events, to find those quality system quick wins and to outline longer term development roadmaps. Each team member has a Personal Development Plan to help align their personal goals too. Continuous improvement - personally and professionally.
Sustainability: Our team members are encouraged to identify both individual and company-wide improvements in our sustainability commitment. Our team loves that we have made a commitment to the United Nations Sustainable Development Goals, and a member of the UN Global Alliance.
Corporate Social Responsibility (CSR): While our Down Under team is relatively small, we are committed to upholding the highest values of corporate social responsibility. Our team members are proud of our CSR commitment, demonstrated by an EcoVadis bronze medal in our first year. Our sights are now set on Gold.

Our teams' skills are even more diverse, bringing together a broad set of capabilities and experience to fully support your requirements.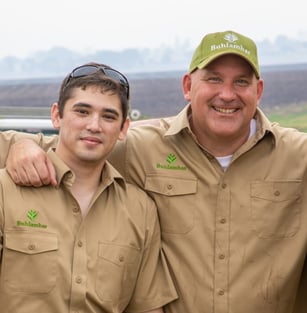 Investment banking
Management consulting
Class III implantable devices
Medical imaging systems
In-vitro diagnostics development
Army quartermaster
Business administration
Hospitality
Nutraceuticals/supplements
Inventory management
Fragrance/Perfumery
Flavors
Join Us
As we grow, we are always looking to hire the best people. If you are interested in joining the Down Under team, CONTACT US to have a confidential discussion about your interests and what you can bring to the team.
Who knows, you too might be getting some Aussie dirt under your nails soon too!