One of the key features of the B Corp movement is the rigorous certification process that businesses must go through in order to become certified. This involves a detailed assessment of the company's impact across the five impact areas, Governance, Environment, Workers, Community and Customers.

By focusing on these areas, we ensure that we are making a meaningful difference in the world around us. This is about how we go further than 'talking the talk' to put real substance to our actions.
Part 2 Governance:

Assurance of Responsible Practices

1. "Benefit for All" is in our company constitution

The first step of becoming a B Corp after the self-assessed B Impact Score is called the Mission Lock. We amended our company's governing Constitution to legally ensure that social or environmental performance – not just financial – is a part of our company decision-making process.

2. Consistency and transparency from our operation and management system

Governance area of B Corp also assess the interrogation of our policies, systems, and procedures.

As an ISO9001:2015 certified company, Down Under Enterprises had already developed and operated under a consistent quality management system across our farm, warehouse, and distribution operations worldwide. We have a SOP (Standard Operating Procedure) for almost everything around the office and the warehouse.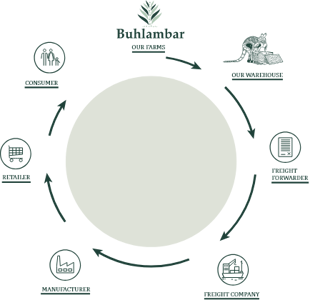 Traceability is central to our Quality Control system. With every kilogram of essential oil produced, we generate extensive data to document the whole process -- from production to delivery.
Our custom-designed farm management system captures all agricultural operations associated with creating our botanical products – from the seeds we plant to the farm activities we undertake to bring the plants to harvest. Each batch is lab-tested for quality assurance. Every batch of product we produce undergoes this thorough Quality Control procedure. While our Operations staff coordinate the details, our system manages the process.
No Certificate of Analysis (COA) is generated, nor order shipped, without this guarantee.