B Means Benefit For All
We envision a global economy that uses business as a Force for Good. This economy is comprised of a new type of corporation - The B Corporation - which is purpose-driven and creates Benefit For All Stakeholders - Workers, Communities, Customers, and Our Planet, not just shareholders.
Demonstrate our Commitment to Sustainability
For companies wanting a better world for all stakeholders, not just shareholders, B Corp™ is gaining a strong following. B Corp is one of the most respected - and hardest to achieve - certifications covering all aspects of Sustainability. Achieving Certified B Corp status means a company has been rigorously assessed, through multiple reviews, to the highest standards of social and environmental performance, transparency, and accountability.
The median score for most businesses that take the initial B Impact Assessment is 50.9. To be allowed to start the certification process, a company must score an 80 or above in the B Impact Assessment. The success rate of companies achieving the 80-point threshold is less than 3% in 2022.
The audit took us a grueling 14 months to get every piece of evidence, to satisfy the multiple auditors that we met or exceeded every parameter of the assessment. Over 70% of the assessment required extensive evidenced outputs and outcomes rather than just policies and practices.
Gravitated to B Corp Values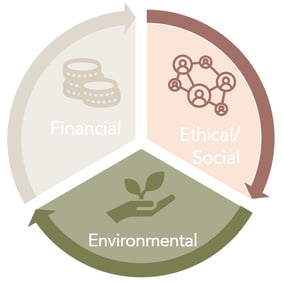 To Down Under, B Corp is more than just a certification. We knew that B Corp's Theory of Change aligned perfectly to our values and the commitments we already made. Even as our founder Dee- Ann was creating the company in 2001 to help her parents sell tea tree oil from their farm, she had a vision of giving back to the land, and to create a culture that cares for the environment and people. Our farm Buhlambar is designed and managed aligned to our Cycle of Sustainability from day one.
To be certified by B Corp, we changed our company constitution to recognize our purpose goes beyond financial. Our social and environmental performance parameters are included in our company goals. Often called the "triple bottom line", our business focus encompasses all three areas.
An Ethical Sustainable Supply Chain
Part 1 of our Mission Statement is to be the most respected global provider of native Australian ingredients. Our products are grown, developed, and brought to market in the most environmentally friendly and sustainable manner possible.

For Essential Oils and Botanical Extracts, companies with global supply chains may unintentionally become entangled in dubious – even illegal – supply chain issues. News reports of modern-day slavery, child labor, unsafe work conditions, harvesting of endangered species, and extensive environmental damage are, unfortunately, too common. And the recent practice of "Greenwashing" hasn't made it any easier for manufacturers and brands to ensure they have integrity and security in their supply chain.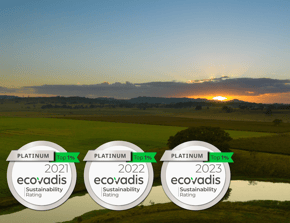 To address this, more and more companies are relying on third party auditors to assess their supply chain partners. For Down Under Enterprises, this is where B Corp, as well as EcoVadis which now audits over 115,000 companies annually, can give our (prospective) customers a high level of supply chain assurance. This year, EcoVadis has again awarded us their Platinum status for the third consecutive year.
B Corp and our Sustainability Roadmap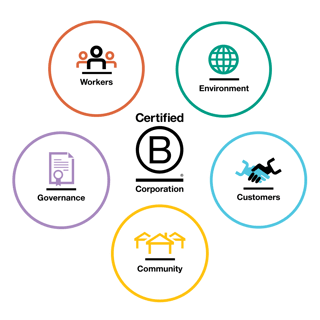 Since day one, sustainability has run like a thread through Down Under Enterprises, across all aspects of the business and the way we operate - Environmental, Social, and Governance. In becoming a B Corp, we thoroughly assessed our corporate activities, including our products and service delivery, across five areas.
Our B Corp certification and Ecovadis Platinum status are not about earning exclusive "badges", but rather, they validate our efforts to be part of a systemic change for good in this world. The Down Under team works with our growers, suppliers, and our customers, to be the leading and most respected global provider of native Australian Botanicals.
How do we stack up in the B Impact Assessment? Read the blogs of our scores and initiatives in each of the five areas: